Fortunato's Italian Deli was featured in the Tucson Citizen on September 7, 2006. Check out their article Fortunato's: Worth a Missed Left Turn!
Since 1982, Fortunato's Italian Deli and Catering has been serving the Tucson community, bringing the traditional New York-style delicatessen to you! In our deli we proudly serve freshly sliced Boar's Head® meats and cheeses and offer a wide variety of options including:
A wide range of Homemade Salads
Imported Olives
Pepperoni & Dry Sausage Sticks
Fresh Mozzarella
Proscuitto Mozzarella
Parma Proscuitto
Fresh Sausage - Sweet & Hot
Polly-O™ Ricotta
Marscapone
Auricchio Provolone
Locatelli Romano
Reggiano Parmigiana
Our grocery shelves are loaded with imported Italian delicasies including:
Imported Pastas
Imported Tomato Products
Expresso Coffees
Extra Virgin Olive Oil
Balsamic & Red Wine Vinegars
Scungilli
Calimari
Roasted Peppers
Lady Fingers
Stella D'Oro Cookies
Ferrara Terroni Candies
Fresh Cannoli
and our own Homemade Baked Goods
Be a guest at your next party! We offer both hot and cold catered meals, plus a host of salads, hors doerves, and desserts! Orders on short notice are welcome!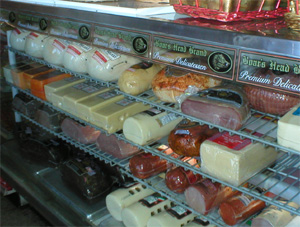 ©2010 Plaza Deli, Inc.
Boar's Head® and Boar's Head Brand® are
registered trademarks of Frank Brunckhorst Co., LLC.
All Rights Reserved.